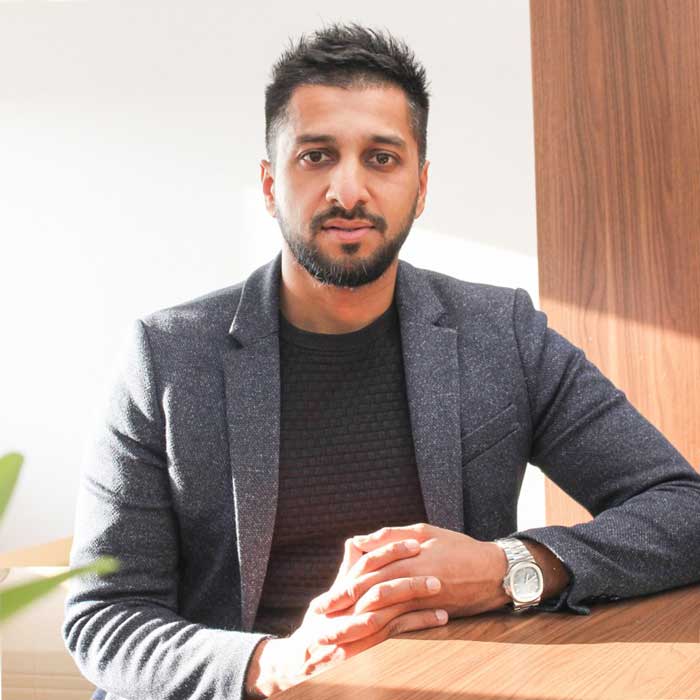 Addy Mohammed
Co-Founder, Simple Online Healthcare
"I have had the pleasure of working with RA Accountants since 2012 and I can confidently say that they have been instrumental in the success and growth of my group of companies. As the owner of multiple community pharmacies across the UK, a pharma wholesale business, and a leading online pharmacy, I have relied on RA's expertise to navigate the complexities of the tax and accountancy landscape.

RA Accountants have consistently provided invaluable guidance and support in shaping my businesses. Their depth of knowledge and understanding of the pharmaceutical industry and related sectors have been crucial in helping me make informed decisions. From the outset, they have shown a remarkable ability to devise and execute effective tax planning strategies tailored to my specific needs. Their expertise in complex tax matters has not only saved my businesses substantial amounts of money but also ensured compliance with all relevant regulations.

In addition to their exceptional tax planning services, RA Accountants have also been an invaluable resource for general accountancy matters. Their team of professionals is meticulous and thorough in their approach, ensuring that my financial records are accurate and up to date. They have played a significant role in keeping my businesses financially healthy, providing insightful analysis and reporting that has allowed me to make informed decisions.

One aspect that sets RA Accountants apart is their commitment to personalised service. They take the time to understand the unique dynamics of my businesses and are always available to provide guidance and advice whenever I need it. Whether it's a simple query or a complex financial decision, I have complete confidence in consulting with RA before moving forward.

Over the years, RA Accountants have proven themselves to be more than just an accountancy firm; they have become trusted advisors and partners in my business ventures. Their professionalism, expertise, and dedication have consistently exceeded my expectations. I wholeheartedly recommend RA Accountants to any business owner seeking top-notch tax and accountancy services. They will undoubtedly add tremendous value to your operations and help you achieve your financial goals."

Rakhee Patel & Tesh Patel
Co-director/Co-owner, Resso Holdings Limited
"I am thrilled to provide a glowing testimonial for RA Accountants. Over the years, I have had the pleasure of working with their exceptional team, and I can confidently say that they are a leading force in the accounting industry.

From the moment I engaged their services, RA Accountants displayed utmost professionalism, expertise, and a commitment to delivering outstanding results. Their deep knowledge of accounting principles and regulations, combined with their meticulous attention to detail, has consistently ensured accurate and reliable financial reporting for my business.

The team at RA Accountants has gone above and beyond to tailor their services to my specific needs. They took the time to understand the intricacies of my business operations, enabling them to provide invaluable insights and strategic advice that have greatly contributed to my financial success.

What truly sets RA Accountants apart is their exceptional customer service. Their team is not only highly skilled, but also incredibly approachable and responsive. Whenever I have had questions or concerns, they have promptly provided clear and concise explanations, ensuring that I am always well-informed and confident in my financial decisions.

Moreover, RA Accountants' commitment to staying up-to-date with the latest industry trends and regulatory changes is truly impressive. They have consistently kept me informed about any updates that may impact my business, ensuring compliance and minimising potential risks.

RA Accountants' dedication to excellence and their unwavering commitment to their clients' success have been truly remarkable. They have helped me streamline my financial processes, optimise tax strategies, and make informed business decisions that have had a significant positive impact on my bottom line.

In summary, I wholeheartedly recommend RA Accountants to anyone seeking top-notch accounting services. Their professionalism, expertise, exceptional customer service, and unwavering commitment to their clients' success make them a true asset to any business. I am grateful to have them as my trusted accounting partner, and I am confident that they will continue to exceed expectations for many years to come."
M Chopra
CEO, Mayfair Group
"As an individual and as the owner of Mayfair Group which works within various lines of business such as property, insurance and outsourced services, I have entrusted my accounting needs to RA as I know I can trust them to not only provide the services I need, but to also go above and beyond. I have now been with RA for over 15 yrs and have never considered looking else where for my personal accounting needs, but also my companies' needs. I would have no hesitation in recommending RA Accountants to anyone."